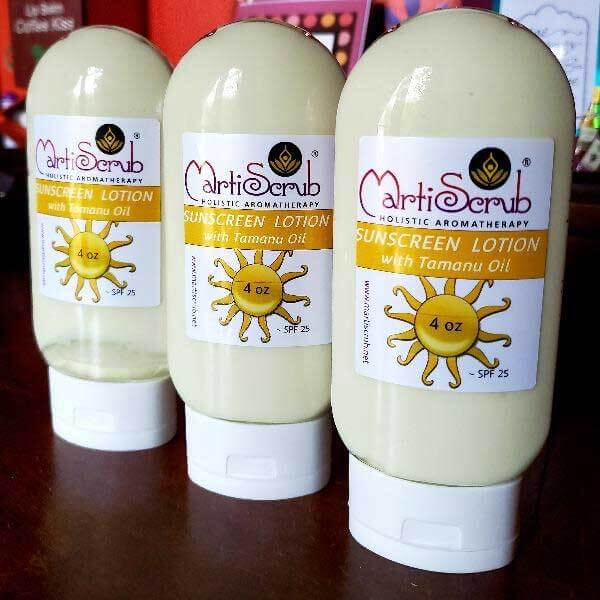 This great smelling Sunscreen Lotion with Tamanu oil can be used on body & face. S
SPF is around 25.
Ingredients: *Argan oil (Argania spinosa), *Raspberry Seed oil (Rubus idaeus),*Tamanu oil (Calophyllum inophyllum), *Aloe barbadensis leaf juice, *Castor oil (Ricinus Communis), *Olive oil (Olea europaea), *Jojoba oil (Simmondsia chinensis), *vegetable glycerin, allantoin, zinc oxide (non-nano, uncoated), hydrolyzed oat protein, kaolin clay, vitamin E , Prunella vulgaris (heal all) extract, and potassium sorbate (food grade preservative). - Essential oils of Carrot seed (Daucus carota), Myrrh (Commiphora myrrha) , Helichrysum (Helichrysum italicum), Cocoa Absolute (Theobroma cacao).

How to use: Re-apply the same amount every 3-4 hours and/or immediately after swimming, toweling off, or sweating a great deal. Please use within 6 months of opening.
Size: 4 oz. in PET tottle with snap top. 
(*) denotes a certified organic ingredient
I made the mistake of running out of this sunscreen and had...
I made the mistake of running out of this sunscreen and had to pick up a conventional brand at the store. I got my first burn since switching and learned my lesson. I will make sure to keep MartiScrub sunscreen in stock!
• Skin-test "MartiScrub" products by applying a small amount to skin of inner arm. Do not use if redness or irritation occurs.

• Keep "MartiScrub" products closed and out of reach of children & pets.

• Keep oils away from eyes and ears.

• If pregnant, suffering from any medical condition, or taking medication, consult a health care practitioner before using.

• Store products out of sun and extreme weather conditions.

• "MartiScrub" products are not intended to diagnose, treat, cure or prevent disease. The user assumes all risk, liability, and responsibility.