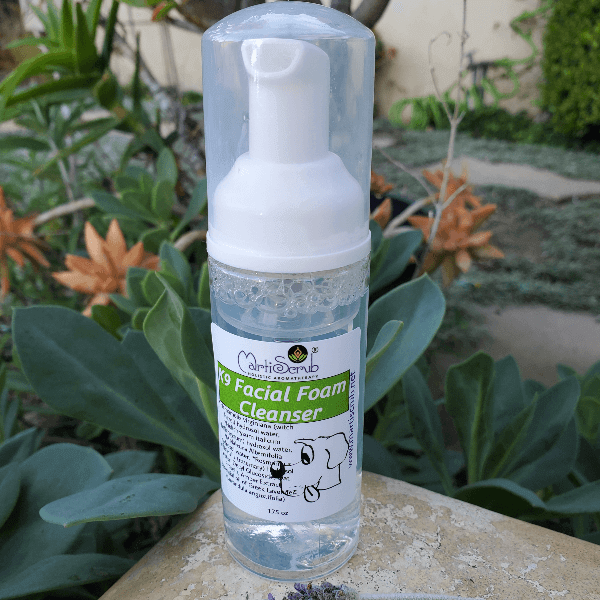 This K9 Facial Foam Cleanser is a great solution for a quick and convenient facial cleanup of your dog's face after playing at the dog park, while riding along on road trips, or after beach days. The self-foaming pump produces rich, airy lather that rinses away easily. Simply apply 1 or 2 pumps directly onto area to be cleaned and gently massage to a lather. Rinse off with water or wipe off with a wet cloth. 
K9 Facial Foam Cleanser can also be used as a foot wash or hot spot wash. Super gentle!
Ingredients:
*Hamamelis virginiana (witch hazel) hydrosol water, *Helichrysum italicum (helichrysum) hydrosol water, *Melaleuca Alternifolia hydrosol water (Tea tree), *Rosmarinus officinalis (rosemary) hydrosol water, Decyl Glucoside, Oat Protein, Amber Extract, Essential oil of Greek Lavender (Lavandula angustifolia), distilled water.
*denotes organic ingredient
Size: 1.75 oz 
So gentle & and works perfectly!
This facial cleanser is exactly what we were looking for our puppy. It's easy to use and gets the job done even on our pups snowy white fur. We use it around his eyes (where he was getting lots of tear stains) and around his mouth keeping his face fresh and clean (with no irritation!)
Easy beard wash
I love this dog facial cleanser. It is very easy to use. The foam stays where I I put it so it's not running into the eyes or nose. The scent is very pleasant and the dogs don't sneeze or pull away from the scent.
I use it to clean my dog's beard a few times a week plus on all my small grooming dogs.
• Skin-test "MartiScrub" products by applying a small amount to skin of inner arm. Do not use if redness or irritation occurs.

• Keep "MartiScrub" products closed and out of reach of children & pets.

• Keep oils away from eyes and ears.

• If pregnant, suffering from any medical condition, or taking medication, consult a health care practitioner before using.

• Store products out of sun and extreme weather conditions.

• "MartiScrub" products are not intended to diagnose, treat, cure or prevent disease. The user assumes all risk, liability, and responsibility.