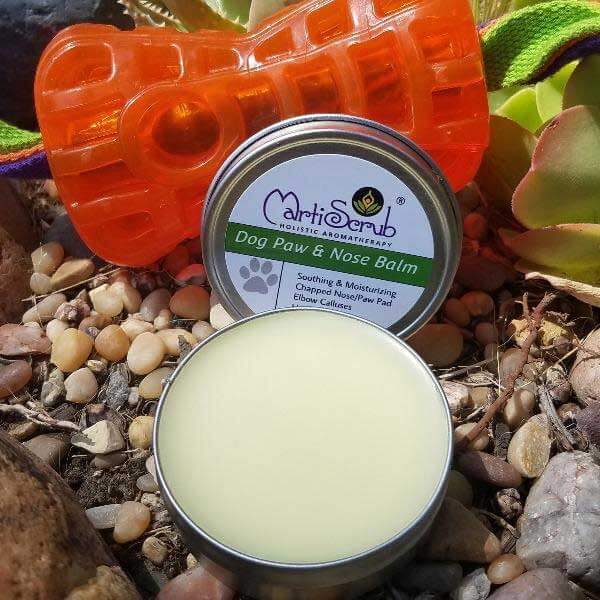 Dog Paw/Nose Balm is an organic healing balm crafted to soothe, treat, heal, and protect your pup's nose and paws. It has skin-soothing and moisturizing properties and can be used for a dry, chapped nose or paws, crusty & cracked nose and paw pads, dry skin around the face, lips and ears, elbow calluses, and even hot spots.
Dogs love to lick their paws and nose, so rest assured knowing that the ingredients in this balm are safe for your dog.
Ingredients: Organic Calendula-infused Jojoba oil (Simmondsia chinensis), organic virgin Coconut oil (Cocos nucifera), unrefined beeswax, essential oil of Roman Chamomile (Anthemis nobilis).
How to use: Scoop up a small amount and gently rub on nose and/or paw pads. For best results, try to distract your dog for just a few minutes by giving him/her a bone, favorite treat or belly rub so he/she won't lick it off.

size: 2 oz tin 
soft paws
My Pup Charlie has the softest paws since I have been applying Marti Scrubs Paw and Nose Balm on him. Being a city dog most of his walks are on cement so the balm really soothes his tender toes. Added bonus, it works for human paws also!
This is the best paw and nose balm I've tried yet. I own a...
This is the best paw and nose balm I've tried yet. I own a dog grooming business and I use this for all my little Spa guests. Very smooth, not waxy like many of the commercial paw balms. A little bit goes a long way!
• Skin-test "MartiScrub" products by applying a small amount to skin of inner arm. Do not use if redness or irritation occurs.

• Keep "MartiScrub" products closed and out of reach of children & pets.

• Keep oils away from eyes and ears.

• If pregnant, suffering from any medical condition, or taking medication, consult a health care practitioner before using.

• Store products out of sun and extreme weather conditions.

• "MartiScrub" products are not intended to diagnose, treat, cure or prevent disease. The user assumes all risk, liability, and responsibility.