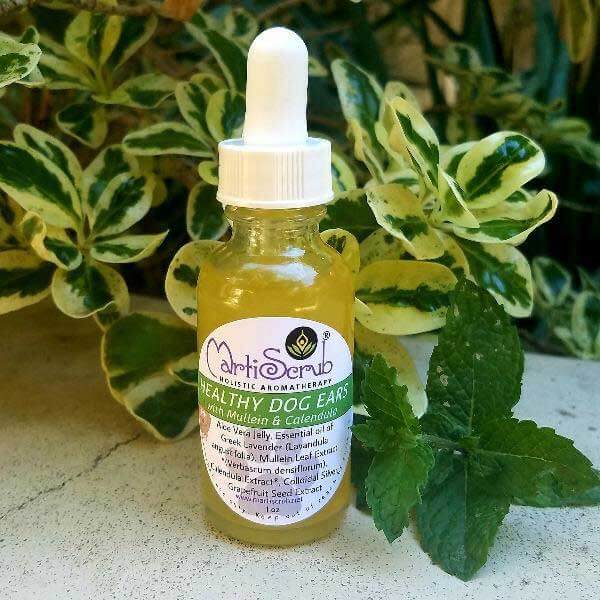 Dog Ears Gel is a gentle, all-natural aloe vera gel-based formula with antibacterial properties that soothes your dog's ears.  
Ingredients:
Aloe Vera Jelly, Organic Mullein Leaf Extract, Organic Calendula Extract, Essential oil of Greek Lavender (Lavandula angustifolia), Colloidal Silver, Grapefruit Seed Extract.
How to use:  Carefully apply the drops* in ear canal with ear opening pointed upward. (avoid placing the dropper directly in the ear canal). Massage area 1-2 minutes for the drops to work their way down the ear canal. 
Great to use as daily maintenance to prevent ear infections.
Size: 1 oz glass dropper bottle.
How to use:
| | |
| --- | --- |
| Weight  | Number Of Drops |
| Under 10 lbs | 2 drops  |
| 11-30 lbs | 3 drops  |
| 31-150 lbs | 4 drops  |
Do not apply drops inside ears if they are ruptured. 
Healthy Dog Ears
My Australian Labradoodle Charlie loves the water! Now that it's summertime and the weather is warmer he is in the pool nearly every day. With that comes water in his ears and then those nasty stinky ear infections. Since I have started using MatriScrubs Healthy Dog Ears on a daily basis his ears are healthier and he is no longer scratching at them, and, they have no bad odor. One other plus is that Healthy Dog Ears is not oily so your pups ears won't get that greasy feel to them.
Keeping Minx's ears healthy!
I'm lucky that my current dog Minx doesn't have any ear issues. But since my past fur kids did have issues I'm using Health Dog Ears to keep Minx's ears smelling, looking & feeling great. It smells so good and is so lightweight, Minx doesn't realize I've put anything in her ears. Which means no mess from her shaking half the product out!
• Skin-test "MartiScrub" products by applying a small amount to skin of inner arm. Do not use if redness or irritation occurs.

• Keep "MartiScrub" products closed and out of reach of children & pets.

• Keep oils away from eyes and ears.

• If pregnant, suffering from any medical condition, or taking medication, consult a health care practitioner before using.

• Store products out of sun and extreme weather conditions.

• "MartiScrub" products are not intended to diagnose, treat, cure or prevent disease. The user assumes all risk, liability, and responsibility.