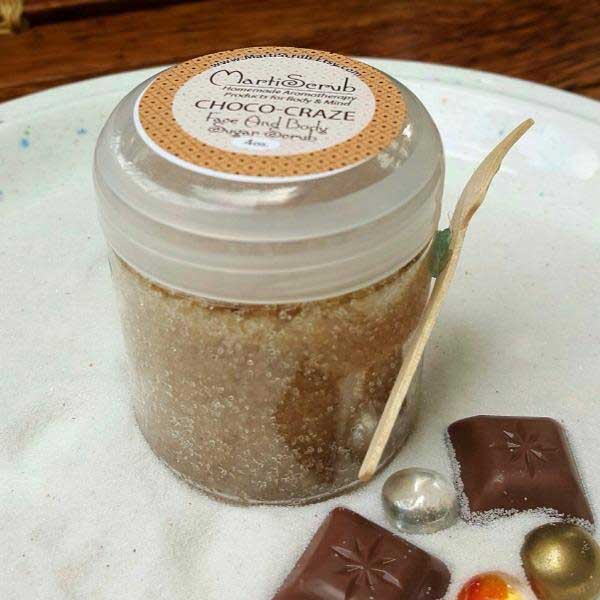 "Choco-Craze" is a sugar scrub for face & body with Cocoa Absolute, Vanilla Planifolia and essential oil of Sweet Orange (Citrus sinensis). Delicate sugar crystals will exfoliate and nourish your skin, leaving it incredibly supple and soft, with a delightfully enticing scent.
To use: Scoop out a small amount and rub it over damp skin, then rinse. Use up to 3 times a week. Please keep water out of the jar to prevent mold. 

Size: 4 oz or 8 oz PET plastic jar with a bamboo spatula. 
Review for CHOCOLATE SUGAR SCRUB
• Skin-test "MartiScrub" products by applying a small amount to skin of inner arm. Do not use if redness or irritation occurs.

• Keep "MartiScrub" products closed and out of reach of children & pets.

• Keep oils away from eyes and ears.

• If pregnant, suffering from any medical condition, or taking medication, consult a health care practitioner before using.

• Store products out of sun and extreme weather conditions.

• "MartiScrub" products are not intended to diagnose, treat, cure or prevent disease. The user assumes all risk, liability, and responsibility.