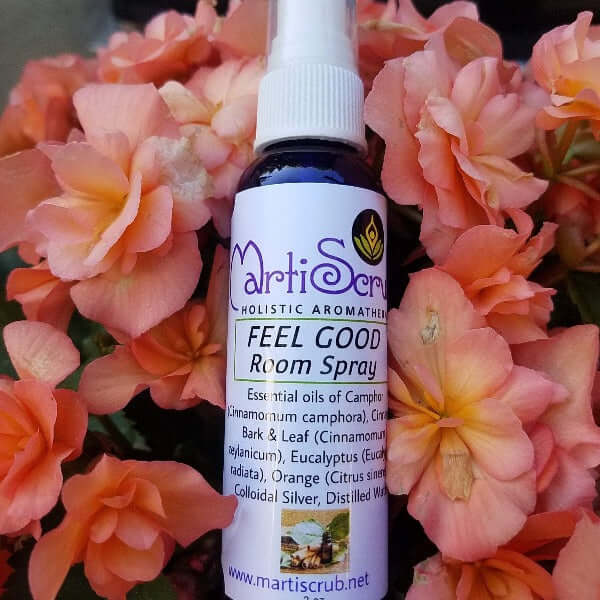 Feel Good room spray has a citrusy, yet powerful (peppery) aroma that makes everyone in the room just feel fab! Use it as a room freshener, to cleanse the air, to uplift and energize! 

Safe around pets and children.
Ingredients: Essential oils of Camphor (Cinnamomum camphora), Cinnamon Bark & Leaf (Cinnamomum zeylanicum), Eucalyptus (Eucalyptus radiata), Orange (Citrus sinensis), Colloidal Silver, Distilled Water.
Size: 2 oz or 4 oz PET plastic bottle with atomizer. 
Smells so good
I always buy a bunch of Feel Good room sprays as Christmas gifts for my friends. It's a guaranteed hit!!!
So happy to read. Thank you!
Shipped super quick. Love the fragrance. Been using all...
Shipped super quick. Love the fragrance. Been using all thru the house.
• Skin-test "MartiScrub" products by applying a small amount to skin of inner arm. Do not use if redness or irritation occurs.

• Keep "MartiScrub" products closed and out of reach of children & pets.

• Keep oils away from eyes and ears.

• If pregnant, suffering from any medical condition, or taking medication, consult a health care practitioner before using.

• Store products out of sun and extreme weather conditions.

• "MartiScrub" products are not intended to diagnose, treat, cure or prevent disease. The user assumes all risk, liability, and responsibility.