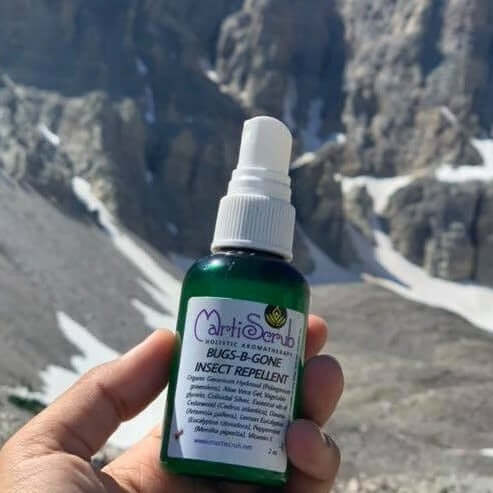 Bugs-B-Gone is an aromatherapy insect repellent spray to use on your skin, keeping you comfortable outdoors repelling flying insects/spiders/ants. 
Ingredients: Certified Organic Geranium Hydrosol (Pelargonium graveolens), Aloe Vera, Colloidal Silver, Essential oils of Cedarwood (Cedrus atlantica), Davana (Artemisia pallens), Lemon Eucalyptus (Eucalyptus citriodora), and Peppermint (Mentha piperita).  
Directions: Shake well before using. Spray directly on body (arms/legs/torso) or clothing (does not stain). To use on face, spray liquid on hands first, then dab on face.
Because of dilution ratio, not suitable for infants under 2 years. Do not use on animals.   
Size: 2 oz or 4 oz PET bottle with atomizer 
Allergies
I love the smell of your product, however, I think I must be allergic to something in the formula.
If it were not for my apparent allergy, I would love this stuff, especially the smell.
Waiting for mosquitos
I have not had the opportunity to use it yet, because I live in Arizona, so because of the heat we have not been outside in the evening
yet.
It really works
I am a magnet for bug bites, but hate using products with DEET. Until now DEET was the only product that really worked. A friend had raved about this bug spray and truly it really does work. The new 'zebra mosquitos' are relentless and this spray works to keep them from biting me all night long. I will always have this on hand and will buy enough to keep in my camping and hiking gear!
Insect Repellent Spray
This insect repellent spray is amazing and it has a nice, fresh scent. I keep one in my car, one in my golf bag and one for travelling. Mosquitos love me and this stuff saves me every time I am outdoors.
Best Bug spray
This is the best bug spray you can buy. Every year a group of us go some where in the south to play golf in Mid May for a week. Used it every day and not one bites. This also smells great. It does not have an medicine alcohol smell. I won't use any other bug spray.
I won't use any other bug spray.
• Skin-test "MartiScrub" products by applying a small amount to skin of inner arm. Do not use if redness or irritation occurs.

• Keep "MartiScrub" products closed and out of reach of children & pets.

• Keep oils away from eyes and ears.

• If pregnant, suffering from any medical condition, or taking medication, consult a health care practitioner before using.

• Store products out of sun and extreme weather conditions.

• "MartiScrub" products are not intended to diagnose, treat, cure or prevent disease. The user assumes all risk, liability, and responsibility.