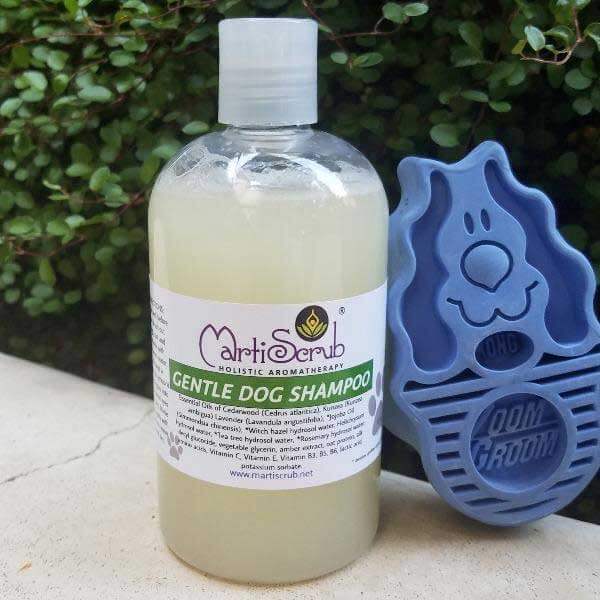 Mild and cleansing, this gentle dog shampoo contains NO sulfates, parabens, gluten, phthalates nor alcohol. The sudsing action is rich and creamy, easy to rinse out. The shampoo has good body, and will not slip thru your fingers like some natural shampoos do. The essential oils of Cedarwood (Cedrus atlantica), Lavender (Lavandula angustifolia) and Kunzea (Kunzea ambigua) are adding a light aromatic scent.
Additional Ingredients:
*Jojoba Oil (Simmondsia chinensis),*Hamamelis virginiana (witch hazel) hydrosol, *Helichrysum italicum (helichrysum) hydrosol, *Melaleuca Alternifolia (tea tree) hydrosol, *Rosmarinus officinalis (rosemary) hydrosol, decyl glucoside, vegetable glycerin, amber extract, (gluten free), oat protein, silk amino acids, lactic acid, panthenol DL (aka "ProVitamin B5" = moisturizing), Vitamin C, Vitamin E, Vitamin B3, Vitamin B6, and potassium sorbate (food grade preservative).
(*) denotes a certified organic ingredient.
Size: 12 oz or 8 oz PET plastic bottle with flip top. 
Love this product!
I LOVE this shampoo! It rinses out so easily and conditions their coats so brushing out is a breeze, even for my male Tervy and his massive coat ❤
My clients love this Shampoo
I have been using this shampoo for all the dogs I groom and my clients have been noticing the difference. The haircuts are lasting longer and the dogs smell and feel clean for days.
I also use this shampoo exclusively after handstripping my own Border Terrier. It gently cleans the empty follicles, removing dirt and reducing any inflammation. Plus she doesn't loose too much of her proper texture which is a common problem with terriers after shampooing.
My dog is an all white dog and this shampoo leaves him...
My dog is an all white dog and this shampoo leaves him sparking white! his coat looks amazing and his skin stays moisturized until the next bath.Thank you for thinking about our pet children!
Great scent for my Lab a little goes a long way will...
Great scent for my Lab a little goes a long way will definitely purchase from them again
Review for AROMATHERAPY DOG SHAMPOO
• Skin-test "MartiScrub" products by applying a small amount to skin of inner arm. Do not use if redness or irritation occurs.

• Keep "MartiScrub" products closed and out of reach of children & pets.

• Keep oils away from eyes and ears.

• If pregnant, suffering from any medical condition, or taking medication, consult a health care practitioner before using.

• Store products out of sun and extreme weather conditions.

• "MartiScrub" products are not intended to diagnose, treat, cure or prevent disease. The user assumes all risk, liability, and responsibility.