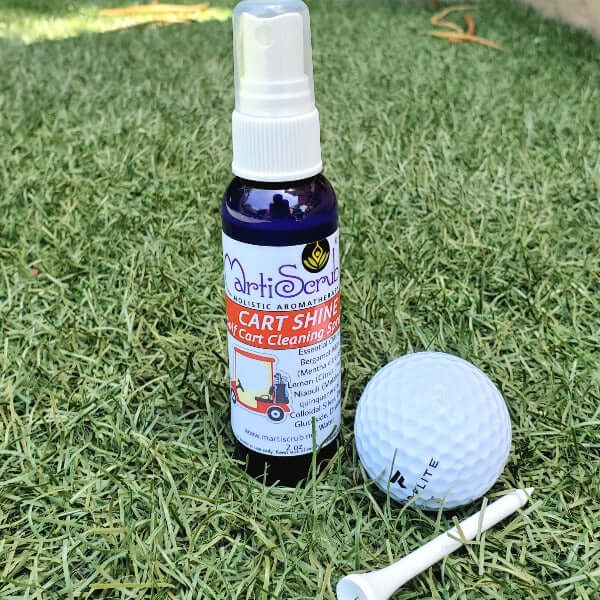 Cart Shine is a ready-to-use cleaner spray for golf carts (handles, bars, steering wheel, vinyl seats), shopping carts, airline trays and more. The essential oil blend has disinfecting actions and is safe to use on all surfaces without staining. Each spray comes with a micro fiber cleaning cloth. 
Ingredients: Essential Oils of Bergamot Mint (Mentha citrata), Lemon (Citrus limon), Niaouli (Melaleuca quinquenercia), Colloidal Silver, Decyl Glucoside, distilled water.
Size: 2 oz or 4 oz in PET bottle with atomizer.
It's a must have in today's world
This little cleaner bottle takes up no room in your bag. Hey just a couple of pumps and your seat and steering wheel are clean and fresh. And it's saved a couple pair of my white shorts. Love it!
• Skin-test "MartiScrub" products by applying a small amount to skin of inner arm. Do not use if redness or irritation occurs.

• Keep "MartiScrub" products closed and out of reach of children & pets.

• Keep oils away from eyes and ears.

• If pregnant, suffering from any medical condition, or taking medication, consult a health care practitioner before using.

• Store products out of sun and extreme weather conditions.

• "MartiScrub" products are not intended to diagnose, treat, cure or prevent disease. The user assumes all risk, liability, and responsibility.