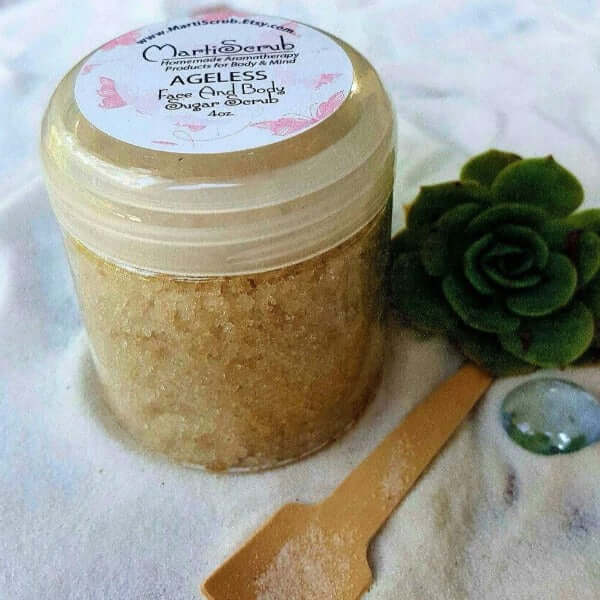 Face sugar scrub "Ageless" is for more mature skin, and has an enriching anti-aging oil blend that can help reduce the appearance of wrinkles, and promotes a glowing, youthful complexion. The scent has some woodsy and floral notes.
Essential oils used: Frankincense (Boswellia carterii), Sandalwood (Santalum paniculatum), Lavender (Lavandula angustifolia), Myrrh (Commiphora myrrha), Helichrysum (Helichrysum italicum), Rose (Rosa damascena).
To use: Scoop out a small amount and rub it over damp skin, then rinse. Use up to 3 times a week. Please keep water out of the jar to prevent mold. 

Size: 4 oz PET plastic jar with a bamboo spatula. 
Love this product!
I absolutely love how my skin feels after using the sugar scrub. I will be a client for life!
Great products
You have great products. It is a pleasure working with your company, your customer service is fantastic
• Skin-test "MartiScrub" products by applying a small amount to skin of inner arm. Do not use if redness or irritation occurs.

• Keep "MartiScrub" products closed and out of reach of children & pets.

• Keep oils away from eyes and ears.

• If pregnant, suffering from any medical condition, or taking medication, consult a health care practitioner before using.

• Store products out of sun and extreme weather conditions.

• "MartiScrub" products are not intended to diagnose, treat, cure or prevent disease. The user assumes all risk, liability, and responsibility.