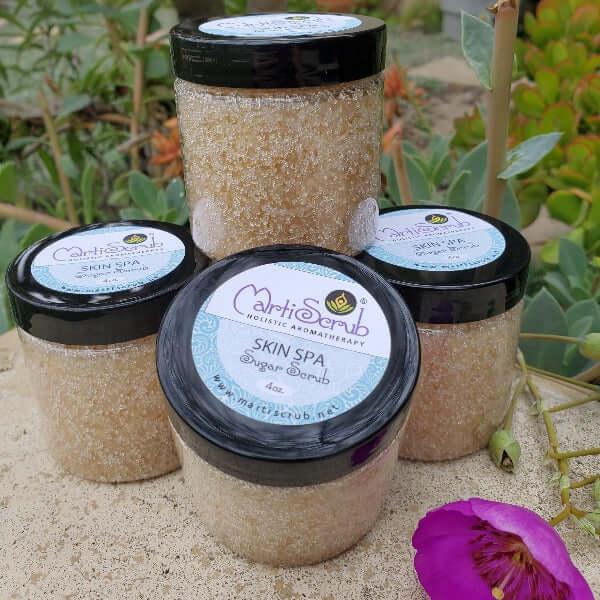 "Skin Spa" is an aromatherapy face sugar scrub for all skin types, but especially for those of you with more oily skin! Essential oil of Petitgrain (Citrus aurantium) is similar to orange blossoms with a bitter, floral, citrus and herbaceous undertone. Its oil, steam-distilled from leaves of the bitter orange plant, is perfect in scrubs/cleansers, as it leaves the skin clean and toned.
Ingredients:
Organic fractionated coconut oil (Cocos nucifer), organic raw sugars, essential oil of Bergamot (Citrus bergamia).
To use: Scoop out a small amount and rub it over damp skin, then rinse. Use up to 3 times a week. Please keep water out of the jar to prevent mold. 

Size: 4 oz PET plastic jar with a bamboo spatula. 
• Skin-test "MartiScrub" products by applying a small amount to skin of inner arm. Do not use if redness or irritation occurs.

• Keep "MartiScrub" products closed and out of reach of children & pets.

• Keep oils away from eyes and ears.

• If pregnant, suffering from any medical condition, or taking medication, consult a health care practitioner before using.

• Store products out of sun and extreme weather conditions.

• "MartiScrub" products are not intended to diagnose, treat, cure or prevent disease. The user assumes all risk, liability, and responsibility.