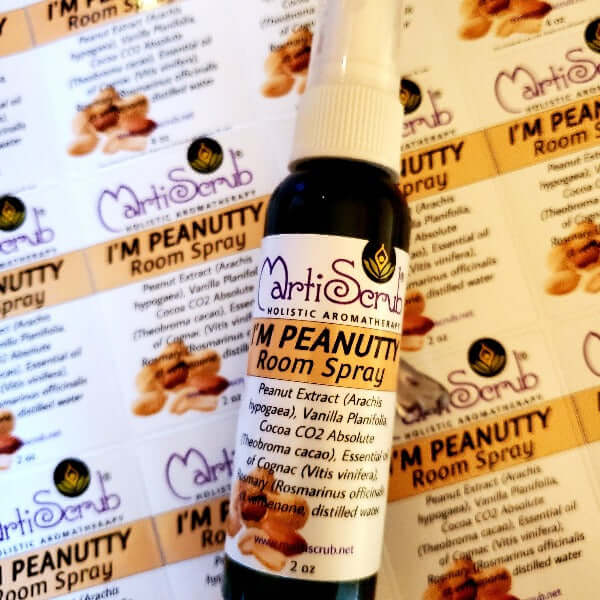 If you are a fan of peanut butter bon bon, this room spray will make your day. Use in your room/office/car and enjoy the sweet, creamy, chocolate, and peanut-buttery aroma of this awesome room deodorizer.

This essential oil blend will fill your home with sweetness and invigorate your senses. Peanut CO2, one of the ingredients, not only produces a true peanut aroma, but it also leaves out the insoluble allergenic proteins, making it safe for those with peanut allergies.



Ingredients: Peanut Extract (Arachis hypogaea), Vanilla Planifolia, Cocoa CO2 Absolute (Theobroma cacao), Essential oil of Cognac (Vitis vinifera), Rosmary (Rosmarinus officinalis ct verbenone), distilled water.



Size: 2 oz or 4 oz PET spray bottle
• Skin-test "MartiScrub" products by applying a small amount to skin of inner arm. Do not use if redness or irritation occurs.

• Keep "MartiScrub" products closed and out of reach of children & pets.

• Keep oils away from eyes and ears.

• If pregnant, suffering from any medical condition, or taking medication, consult a health care practitioner before using.

• Store products out of sun and extreme weather conditions.

• "MartiScrub" products are not intended to diagnose, treat, cure or prevent disease. The user assumes all risk, liability, and responsibility.