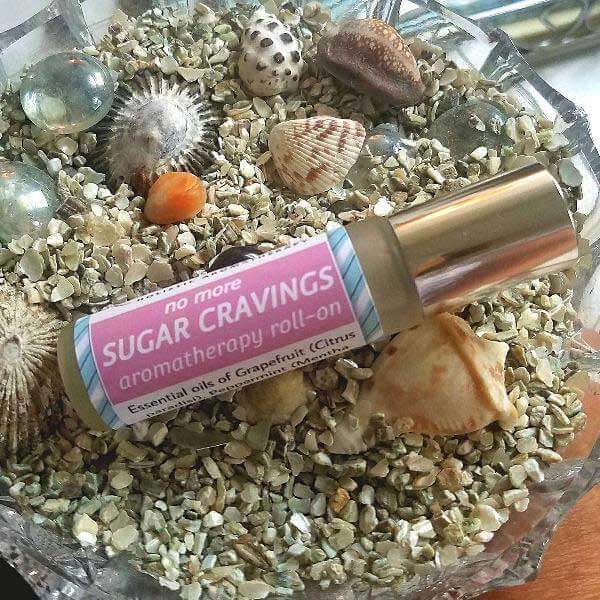 The essential oil blend of "No More Sugar Cravings" consists of Grapefruit (Citrus paradisi), Melissa (Melissa officinalis) and Peppermint (Mentha piperita), diluted in organic fractionated coconut oil (Cocos nucifera) is to help increase energy levels and metabolism, plus it also can help curb sugar cravings.

How to use: Apply at least 2x/day on pulse points and/or when sugar cravings occur.
Size: 10 ml
Great new product
I'm so excited to start using no more sugar cravings. I gave some to all of my friends as Christmas gifts. The fragrance makes you feel so happy and uplifted.
Just the help I needed!
My dietary weakness is Sugar. Sweets of almost any kind are my kryptonite. I've lowered and/or eliminated artificial sugars from my diet before so I was prepared for the 2 week fallout of constant cravings, extreme mood swings, feeling deprived, etc. Turns out I needn't have worried.
The Sugar Cravings roll on has been a game changer. Besides actually physically lessening the actual cravings, making the choice to apply the roll on is mentally empowering. I feel more in control when I use the Sugar Cravings rollon, it's a reminder that I am in control and I'm choosing to use the rollon instead of reaching for sweets. This has meant no mood swings! And the aromatherapy acts quickly so my cravings lessen before my resolve does.
I'm now 3 weeks into my sugar reduction and if I make the choice to have a dessert it's because I'm making a conscious choice instead of giving in to cravings. Plus the Sugar Cravings roll on smells fantastic!
• Skin-test "MartiScrub" products by applying a small amount to skin of inner arm. Do not use if redness or irritation occurs.

• Keep "MartiScrub" products closed and out of reach of children & pets.

• Keep oils away from eyes and ears.

• If pregnant, suffering from any medical condition, or taking medication, consult a health care practitioner before using.

• Store products out of sun and extreme weather conditions.

• "MartiScrub" products are not intended to diagnose, treat, cure or prevent disease. The user assumes all risk, liability, and responsibility.