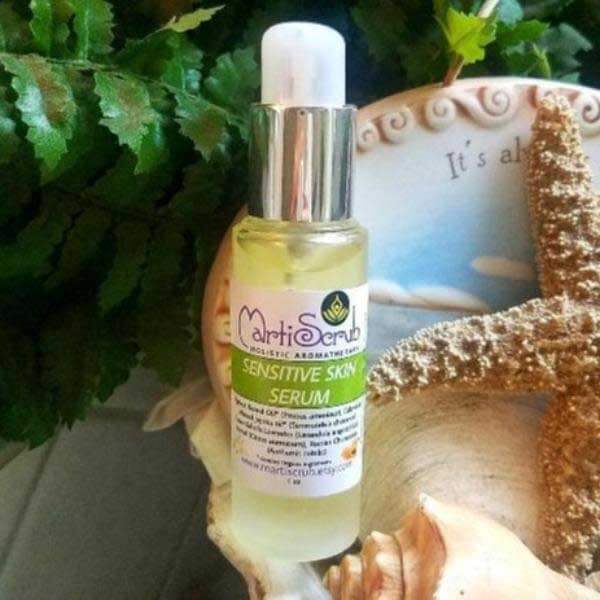 This aromatherapy "Sensitive Skin Serum" is gentle, soothing and calming and goes a long way.
Ingredients:
Organic Apricot Kernel oil (Prunus armeniaca), Organic Calendula infused Jojoba oil (Simmondsia chinensis), Roman Chamomile (Anthemis nobilis), Lavender (Lavandula angustifolia), Neroli (Citrus aurantium).
How to apply: Put a drop or two onto your fingertips and massage it gently into skin. Alternatively, add a few drops of this serum to your moisturizer and apply. You may use it during the day or night, as it is non-greasy and very light.

Size: 1 oz frosted glass bottle with self-locking lotion pump. 
This skin serum seems to work very well in my super...
This skin serum seems to work very well in my super sensitive skin. No problems here!
• Skin-test "MartiScrub" products by applying a small amount to skin of inner arm. Do not use if redness or irritation occurs.

• Keep "MartiScrub" products closed and out of reach of children & pets.

• Keep oils away from eyes and ears.

• If pregnant, suffering from any medical condition, or taking medication, consult a health care practitioner before using.

• Store products out of sun and extreme weather conditions.

• "MartiScrub" products are not intended to diagnose, treat, cure or prevent disease. The user assumes all risk, liability, and responsibility.