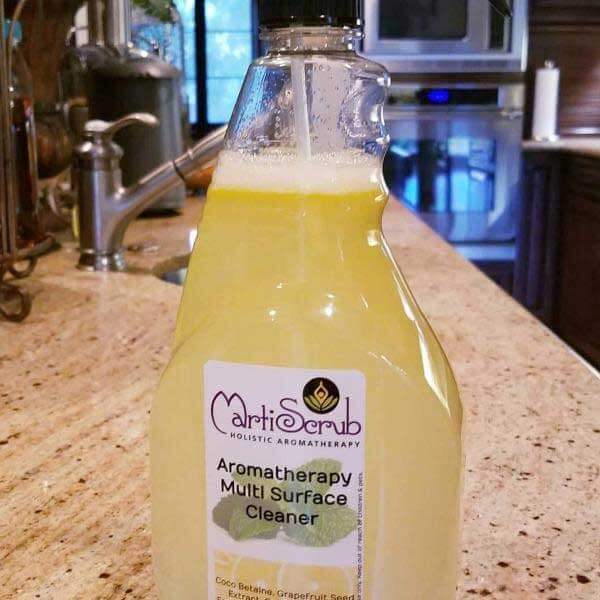 Green cleaning with the power of essential oils! Traditional commercial household cleaners can be full of harsh and toxic chemicals that you do not want around your food or on your skin. So utilizing the cleaning power of essential oils is a great way to create and maintain a healthy, environmentally friendly household environment. 


Use on countertops, appliances, baseboards, walls, floors, tables, showers, toilet seats, sporting equipment, toys! Leaves no residue!
Directions: Shake bottle gently. Spray on and wipe.
Size: 32 oz PET sprayer bottle. 
The ant repellent version includes essential oils of Clove (Eugenia caryophyllata) and Texas Cedarwood (Juniperus mexicana).
Ingredients:
Essential oils of Basil (Ocimum basilicum ct. linalool), Lemon (Citrus limon), Mandarin & Tangerine (Citrus reticulata), Orange (Citrus sinensis), Peppermint (Mentha piperita), Colloidal Silver, Coco Betaine.


• Skin-test "MartiScrub" products by applying a small amount to skin of inner arm. Do not use if redness or irritation occurs.

• Keep "MartiScrub" products closed and out of reach of children & pets.

• Keep oils away from eyes and ears.

• If pregnant, suffering from any medical condition, or taking medication, consult a health care practitioner before using.

• Store products out of sun and extreme weather conditions.

• "MartiScrub" products are not intended to diagnose, treat, cure or prevent disease. The user assumes all risk, liability, and responsibility.