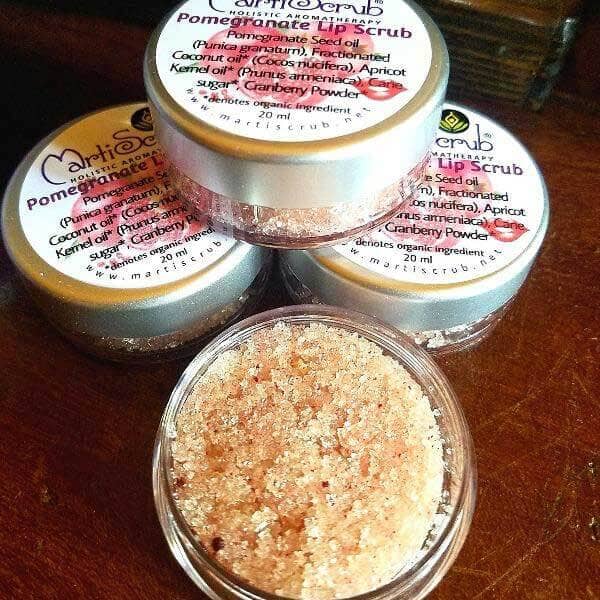 This hydrating aromatherapy Pomegranate Lip Scrub gently buffs and smooths dry, flaky lips while maintaining moisture, making it an essential prep step for any lip color.
Ingredients:
Pomegranate Seed oil (Punica granatum), Apricot Kernel oil (Prunus armeniaca), Cranberry powder in this lip scrub acts as a natural dye.
How to use: Wet your lip with a little water to soften and then gently rub a pea-size of the sugar scrub over your lips in small circles. Wipe off any excess with a soft cloth/sponge, then follow up with one of my lip balms. Use 1-2 times a week to maintain healthy, natural lips.
Size: 20 ml (0.67 oz) with bamboo spatula 
• Skin-test "MartiScrub" products by applying a small amount to skin of inner arm. Do not use if redness or irritation occurs.

• Keep "MartiScrub" products closed and out of reach of children & pets.

• Keep oils away from eyes and ears.

• If pregnant, suffering from any medical condition, or taking medication, consult a health care practitioner before using.

• Store products out of sun and extreme weather conditions.

• "MartiScrub" products are not intended to diagnose, treat, cure or prevent disease. The user assumes all risk, liability, and responsibility.