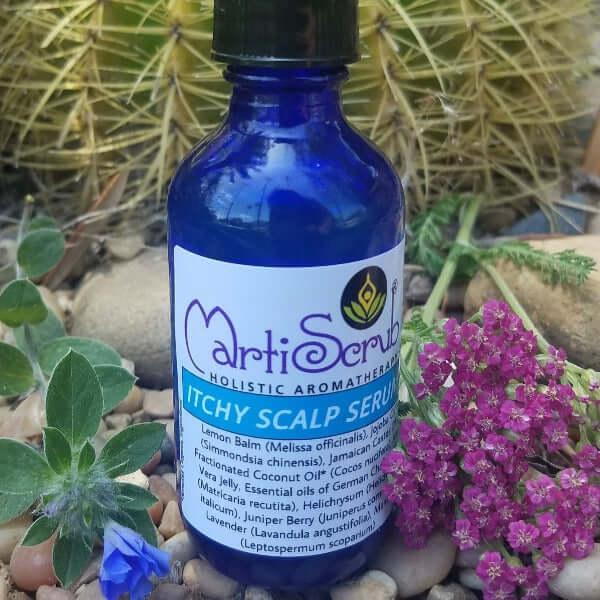 "Itchy Scalp Serum" is an aromatherapy treatment for dry, flaky skin and dandruff. The botanical oils used in this serum will nourish and soothe the scalp.
Ingredients:
Essential oils of German Chamomile (Matricaria recutita), Helichrysum (Helichrysum italicum), Juniper Berry (Juniperus communis), Lavender (Lavandula angustifolia) and Manuka (Leptospermum scoparium), Aloe Vera, Jamaican Black Castor Oil (Ricinus communis), Jojoba oil (Simmondsia chinensis), Lemon Balm (Melissa officinalis).
How to use: Shake "Itchy Scalp Serum" bottle well. Apply small amount on dry and clean scalp. Massage into scalp, focusing on problem areas. Allow to dry. Best to use at bedtime for overnight treatment.

Size: 2 oz glass bottle with dropper or 4 oz PET bottle with pump head.
• Skin-test "MartiScrub" products by applying a small amount to skin of inner arm. Do not use if redness or irritation occurs.

• Keep "MartiScrub" products closed and out of reach of children & pets.

• Keep oils away from eyes and ears.

• If pregnant, suffering from any medical condition, or taking medication, consult a health care practitioner before using.

• Store products out of sun and extreme weather conditions.

• "MartiScrub" products are not intended to diagnose, treat, cure or prevent disease. The user assumes all risk, liability, and responsibility.